Winstonfield Celebrates a Remarkable Achievement for winning the Best Office Development Award at the European Property Awards in London.
Winstonfield, a prominent property development company, is thrilled to announce its outstanding triumph at the prestigious European Property Awards in London. The company's latest office development project has been honored with the highly coveted Best Office Development award, solidifying Winstonfield's position as a leading force in the real estate industry.
The European Property Awards, renowned for recognizing excellence and innovation in the property sector across the European continent, represent a pinnacle of achievement for Winstonfield. The esteemed panel of expert judges evaluated projects based on their design, quality, sustainability, innovation, and overall contribution to the local property market.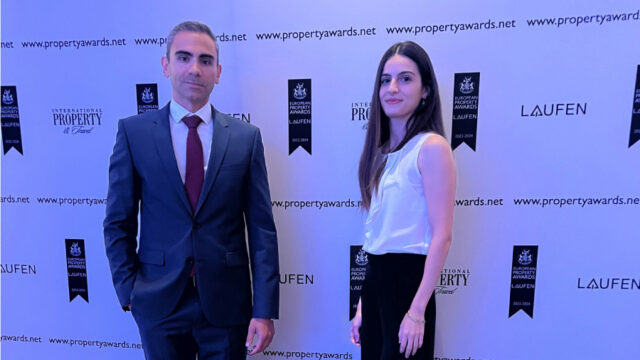 AWARD "BEST OFFICE DEVELOPMENT"
Winstonfield's winning office development project 'Legacy Business Center' captivated the judges with its unparalleled design, state-of-the-art facilities, and commitment to sustainable practices. Situated in the Dasoudi, Limassol, the development perfectly embodies the company's dedication to creating exceptional spaces that foster productivity, collaboration, and a positive work environment.
Mr. Michalis Economides, Founder & CEO of Winstonfield, expressed his utmost pride in the team's achievement, stating, "Winning the Best Office Development award at the European Property Awards is a testament to our unwavering commitment to excellence. We are thrilled to receive this prestigious accolade, which acknowledges the collective efforts of our talented team, who consistently strive to push the boundaries of innovation in the real estate industry."
The European Property Awards recognize outstanding achievements in various categories, including residential, commercial, mixed-use, architecture, and interior design. Winstonfield's triumph in the Best Office Development category serves as a testament to the company's ability to deliver exceptional projects that not only meet but exceed the highest industry standards.
WINSTONFIELD: A LEADING FORCE IN THE REAL ESTATE MARKET
This momentous win further solidifies Winstonfield's position as a leading force in the real estate market. With an impressive portfolio of successful projects, the company continues to shape the urban landscape and redefine the concept of modern office spaces.
Winstonfield remains committed to delivering outstanding developments that contribute to the growth and prosperity of the communities they serve. The company's passion for innovation, attention to detail, and dedication to sustainability drive its ongoing success and position it as a trusted partner in the industry.
For more information about Winstonfield and its award-winning office development project, please visit www.winstonfield.com or contact 7000 33 03.